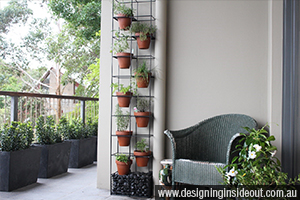 Limited space for gardens?
With limited space being a big issue in new developments, gardens are usually the last thing considered, but a good garden design is necessary  for your own enjoyment, no matter what size the available space.
If you have only a small space  for a garden or even if you are renting, then you still can create an oasis or enjoy herbs and veggies by bringing in some functional planter pots to create a moveable garden.
How to style your moveable garden
There are many styles to choose from and the light weight pots are fantastic for balconies or if you know you may need to move and don't want to leave the plant behind.
Before you choose your garden and moveable pot style,  you will want to think about  the type of plants that will thrive in the various locations and aspects available to you within your limited space.  Some things to think about are:
Do the plants need shelter from the hot summer sun?

Do they need access to the sun in winter?

Do they need protection from winter frosts?

Would they benefit from being under shelter?

Would they benefit from being moved into a more open space  when it's raining?
Choose your pot shape, size, weight and style to suit your plants
One ideal solution  for your movable garden is to choose modern, lightweight pots that  give you the flexibility to move the pots easily, which means that the plants can be positioned closer to the walls in winter, protecting them from any strong winter winds  or even under cover to protect them from frosts, as well as being able to position  your plants to receive more sun when needed for growing herbs and vegetables.
Top 5 tips for planting in pots
Use good quality potting mix

– plants need the correct nutrients to survive.

Water regularly and make sure the pot drains well

– if not well drained, then roots are susceptible to root rot.

Use a suitable slow release fertiliser

– this gives the plant food when it needs it.

Don't overcrowd pots

– all plants need their own root space to be able to grow larger.

Group pots together to make a focal point

– use colourful pots or different foliage textures.
Ready to create your own stylish, moveable garden?
So have a go now at creating your own  movable garden  so you can enjoy your balcony  or other small space to grow herbs or some beautiful potted colour with amazing annuals now available at low prices.